Frequently Asked Questions:
What is FreeSHOUTcast?
FreeSHOUTcast provides Free Online Radio Servers. You can get your own server and start your internet radio station for free!
Is the service really free?
Yes, FreeSHOUTcast completely free, this is not a demo or trial.
What's the trick?
There is no trick, we created this service for online radio enthusiasts. You can try streaming online, share favorite music or become a radio DJ for free.
What is AutoDJ?
AutoDJ lets you upload music and pre-recorded shows to your free radio server (like a free music cloud) and create playlists online so you can listen and share your stream on the Internet. Everything can be accessed via your web browser, not need to install anything on your computer.
How to upload your audio files to AutoDJ
To upload music or pre-recorded shows to your AutoDJ select Playlists. You will find a default playlist All music where you can upload your tracks. The All music playlist will stream by default 24/7 unless you change the Schedule settings.
You can also create a new playlist for better organization of your library.
Open the Playlist and drag files from your computer to onto the Upload area.
After you drop your files onto the upload area, select the Upload button and allow a few moments for file processing.
To schedule a Playlist, navigate to Schedule and add a New Event.
Would you like to use FTP software? See:
How to upload MP3s to Everest Cast Pro using a Web browser or FTP?
How many tracks can I upload?
You have 1GB of disc space for your tracks. If it's full, remove old tracks to upload new.
Recommended free broadcasting software
Mixxx (PC and Mac) - a virtual mixer, lets you create advanced playlists and use a microphone. More & Download

B.U.T.T. - (PC and Mac) basic, lets you use a microphone or any other line-in source (a mixer, etc). More & Download

SHOUTcast DSP Plug-In (PC) - an addon to Winamp, lets you stream playlists from your Winamp Player and use other stream sources. More & Download

You may also use any other software compatible with SHOUTcast or Icecast servers, like premium (non-free) SAM Broadcaster Pro, Virtual DJ or RadioBoss
How to stream live?
Start by Installing live broadcasting software of your choice on your PC or Mac and connect to your FreeSHOUTcast radio server.
Next, Add a DJ in your Radio Control Panel.

Next, open the Edit tab next to the new DJ to check the Live Connection Parameters. Every DJ has different details.
Do not deactivate AutoDJ. Your AutoDJ will go off air automatically as soon as you (or the DJ) connect live and be back as soon as you disconnect.

Copy the details and Paste to the live streaming software of your choice installed on your computer. Do not have any? See Recommended broadcasting software. For free Mixxx or BUTT software, use the same details as suggested for SAM Broadcaster.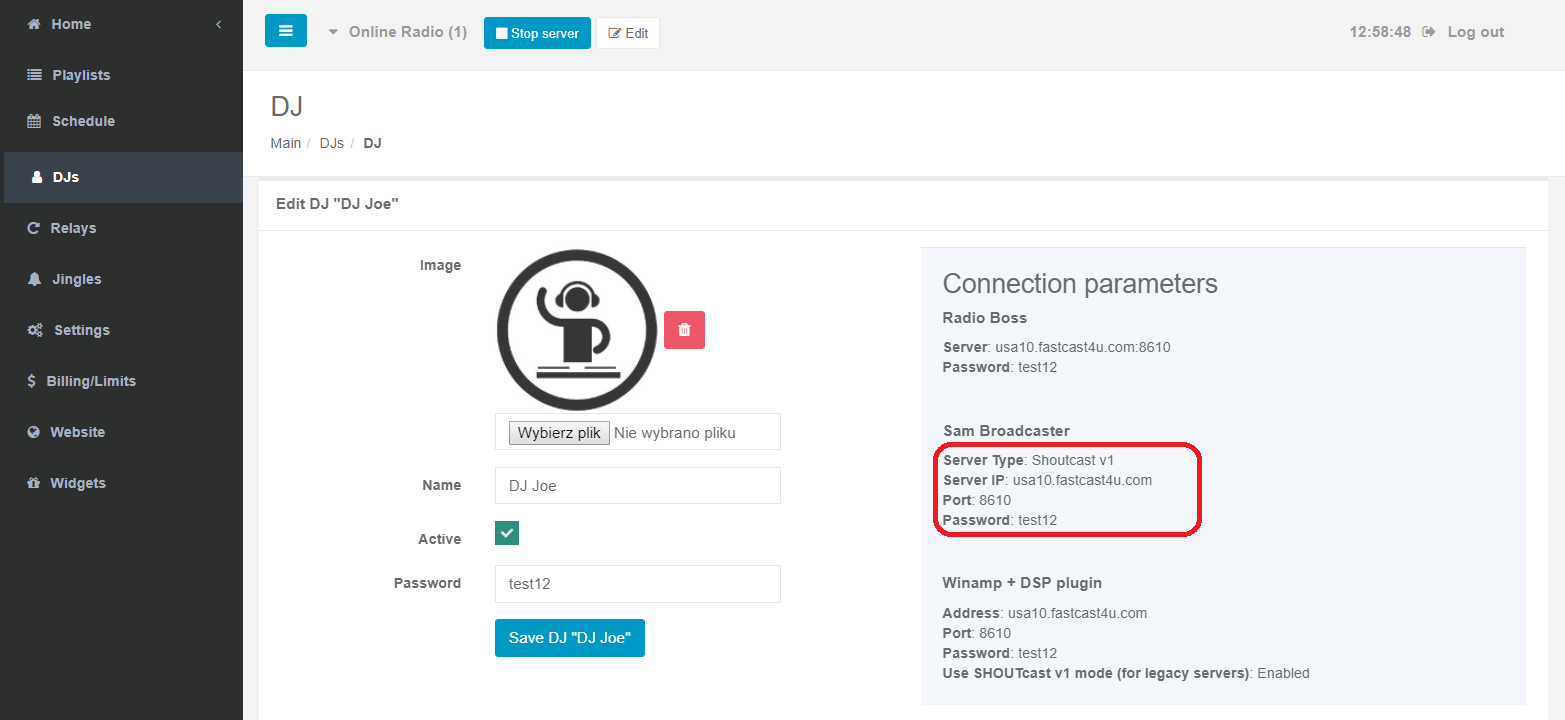 Notice: Make sure you set the broadcasting bitrate in your broadcasting software to 96 kbps or less to match the free radio server limit.
I case of any trouble in getting connected, contact us through live chat!
Are there any limits?
Yes, the machines for free radio servers are shared. The limits guarantee machine stability and prevent outages.


You need to keep an average of at least 5 listeners daily - if you don't generate the traffic, your account will be terminated.
The current limits for the free radio servers are:

- up to 100 listeners connected at one time,
- 96 kbps maximum broadcasting bitrate,
- 1GB AutoDJ space per Server,
- 1 Radio Channel per Server.
What if I need Unlimited?
Just ask our support agents for the Unlimited Server offer if you need anything more that provided in the free radio server.